News & Views
Liquor Store Display Solutions Maximize Impact of Marketing to Drive In-Store Sales
Consumer wallets are being impacted today by rising energy costs driven by inflation. Every dollar needs to go a little bit further. As a result, consumers are being more selective with their purchasing behavior.
Liquor stores have seen a positive uptick in purchasing behavior in recent years and are making great strides to improve the customer experience. Research from The Association of Convenience and Fuel Retailing shows that consumers prefer making in-store purchases for alcoholic beverages, unlike other home goods such as food, clothing, and decor which are more likely to be purchased online or through a BOPIS experience. In fact, the number of people choosing to buy alcohol online has declined from 40% to 35% as consumers prefer to make these purchases in-store. This is great news for retailers because it means increased foot traffic and a great opportunity to capture customer attention in store.
As people return to the in-store shopping experience, it is important to be strategic when creating a visual merchandising plan for Liquor stores. These changes also increase the pressure on brands to stand out from the crowd as customers increasingly make monetary tradeoffs. The solution? Great hardware , signage, and graphics to maximize the sales opportunity.

Liquor Store Design & Challenges
The wine and liquor business has its own unique challenges. As store footprints expand, product lines grow, and foot traffic increases, products can get lost in the crowd. This is frustrating to not only the consumers, but also to store owners and operators and to the brands with whom they partner. The real problem is that merchandising stacks up making low displays less effective.
Signage is one of the BEST ways to drive engagement, awareness, and influence purchasing behavior and brand recognition. The right visual merchandising plan will stack and stagger messaging so it is elevated to eye level, grabs attention, and sends a clear marketing message to intrigue the customer to make a purchase.
Both the store owner or operator, and the brands, are responsible for driving visual display decisions. John Ellsassar, Sales Manager for Narragansett Brewing outlined the "5 Spot Rule" for alcohol merchandising for Repsly.com . His studies show that Lit Signs, Window Banners, First Impact Area, Cooler, and Checkout Area are the spaces store owners must maximize with the right signage to drive sales.
Scorpion Planogram, a product from www.retailsmart.com , says that in order to plan for your customers you have to understand your customers and their buying habits. Their other top three tips include:
Include a variety of displays including floor displays, free-standing displays, and signage for the refrigerator, shelf, or hanging

Organize by brand or type of beverage

Be strategic with your promotions
The best visual merchandising plan is intentional about creating the customer experience from the moment they park in the parking lot and having the right hardware and signage helps guide that experience into and throughout the store.

Liquor Display Solutions
Testrite manufactures a wide range of display items which are ideal for use in the wine and liquor stores, beer retailers, convenience stores, wine retailers, package stores, wine and spirit retailers and other liquor retail afficianadoes.

Free-Standing Signholders
Testrite has dozens of free-standing sign holder solutions which include the Simple Signholder which is an inexpensive solution that stands up to 6' high and is designed to hold rigid printed graphics. As an adjustable product this can hold various size graphics, as needs and promotions change and can be reused hundreds or thousands of times. They are also lightweight, easy to move around a store, graphics swap out is a breeze for associates. You can even stack them on top of flat cases where it is safe to do so to layer your hardware and graphics.
For larger displays, our Freestanding Monster Sign Frames can be used with dividers. These stands are great for promoting your brand and can be used in an evergreen manner so you can rotate seasonal or promotional marketing messages whether it is your new summer ale or a limited edition distiller run of your locally distilled Whiskey.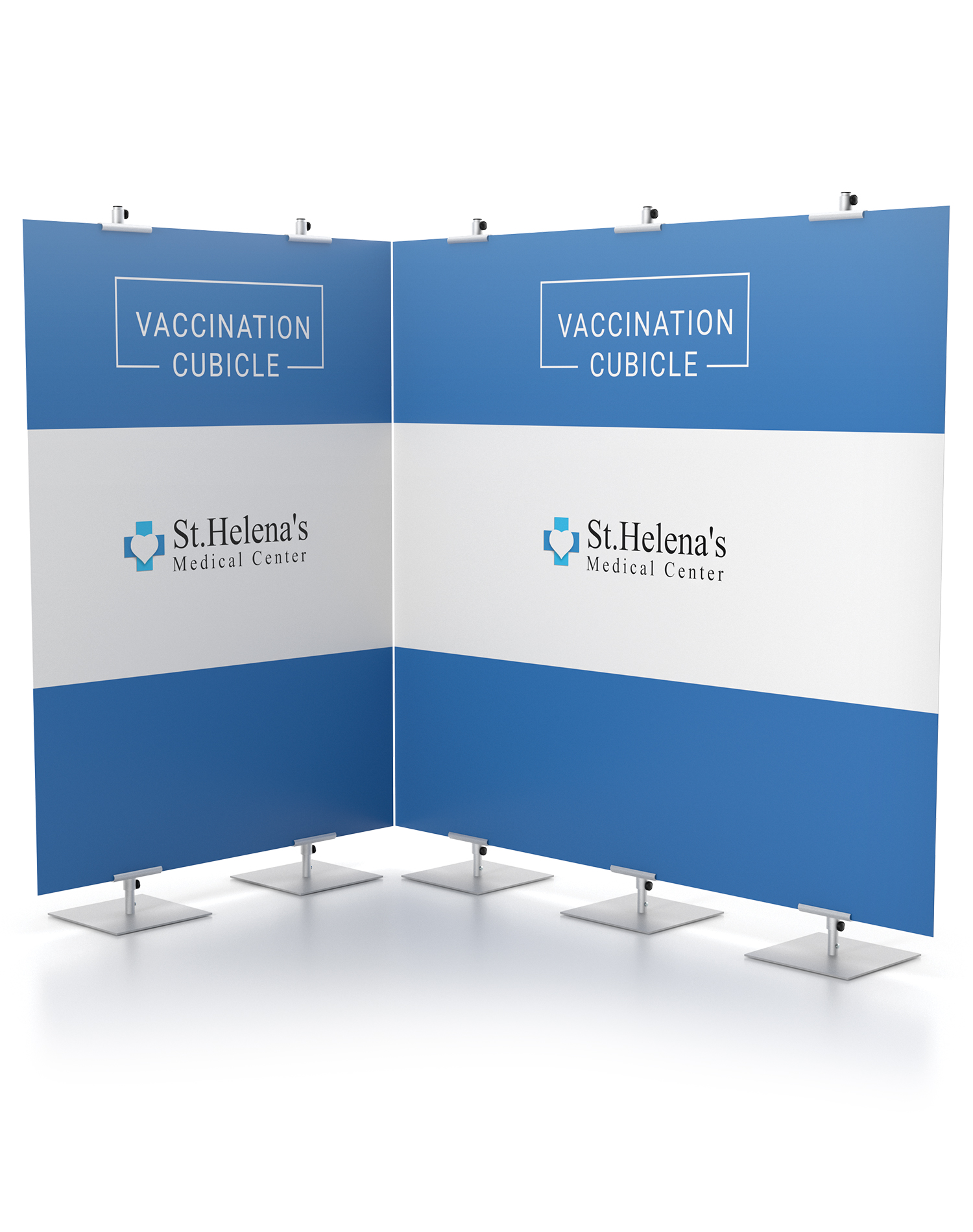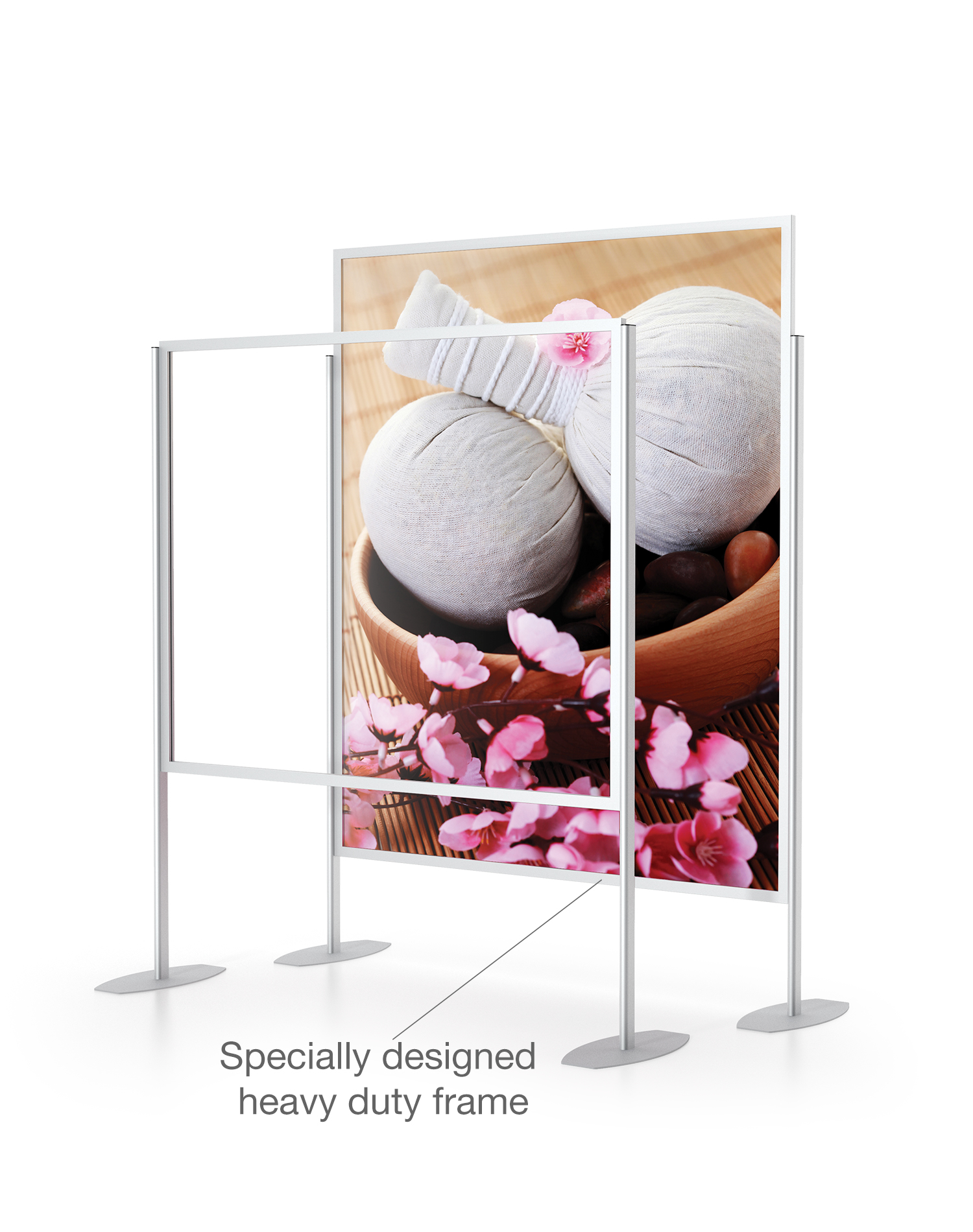 Metal Shelf-Talkers
Metal shelf-talkers are a must have for Liquor stores and they are available in top load or side load design. Our Top Load Shelf Talkers are perfect for liquor store retailers who want to store multiple graphics. The Side Load Shelf Talkers are most often used where only a single paper graphic will be held and the minimal visible hardware is desirable. These can be used on straight shelves or end caps and can be easily installed and stored when not in use. Need shelf talkers with a custom angle, magnet, or another customization? Just reach out!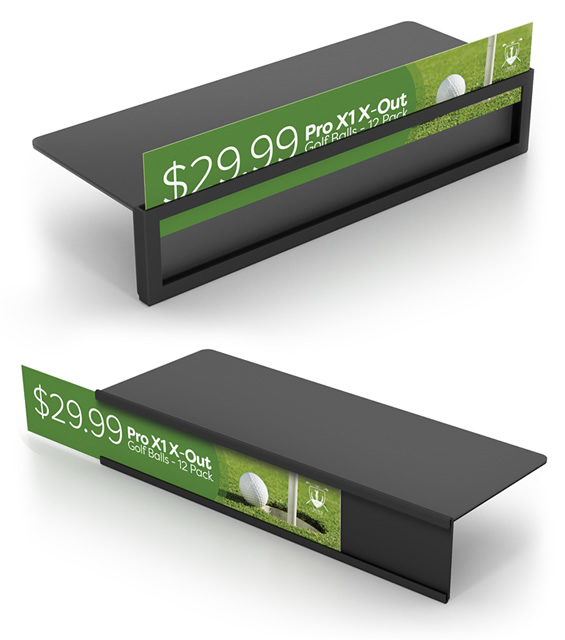 Lollipop Stands
If you are looking for a beautiful and unique display our Lollipop Stand is for you! These are die cut or router cut graphics in any shape you can imagine. These stands feature a semi circle base while the top of your graphic can be cut to any shape, round graphics, bottle shaped graphics, or almost anything else. Recent designs have included a Wine glass, a Whiskey Bottle, a Beach scene (think Corona of course), or any brand visual that matches your product to help you connect with your customer.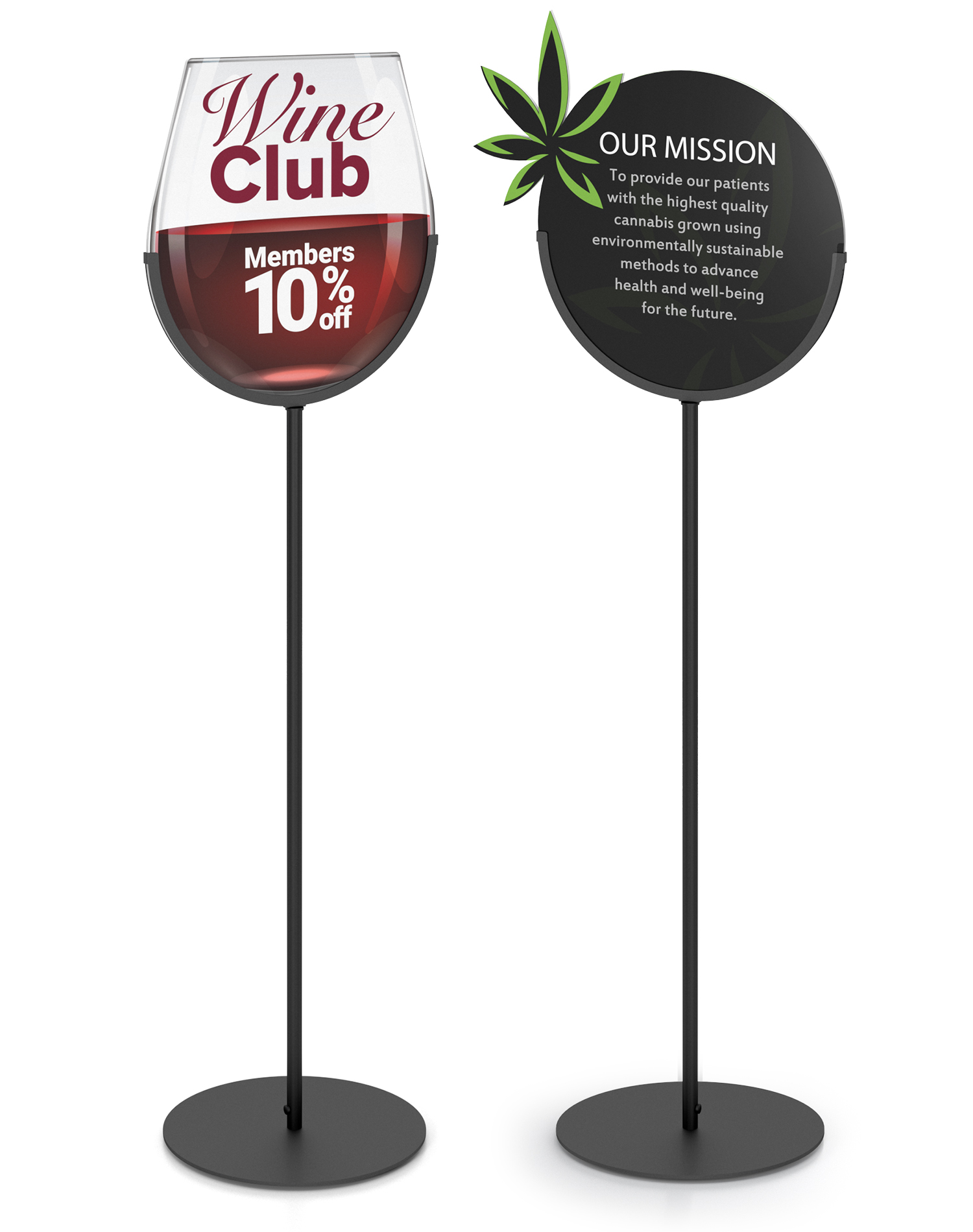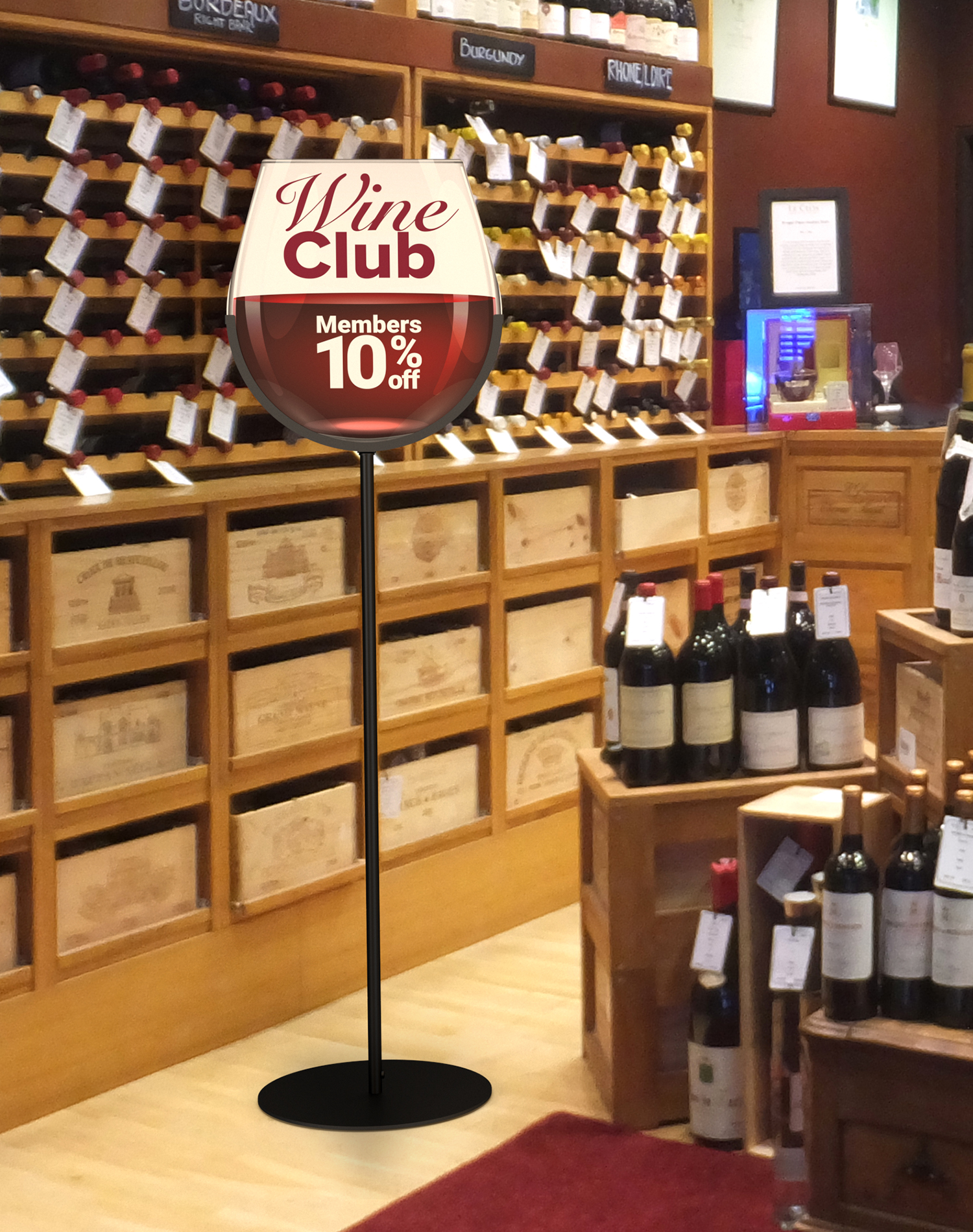 Hanging Hardware
Hanging signage is an important and effective tool when considering liquor store design and Testrite has options!
Our Horizon Pillow Case Hanging hardware makes it easy to clearly divide up and label specific areas of the store for customers as soon as they enter. Direct them to the wine, spirits or whiskey, vodka or beer with simple hanging signage. Like our Free-Standing Monster frames, our Hanging Moster-Frames can be hung from the ceiling or the wall to display the desired message or marketing promotion and, as with all Testrite hardware, swapping out graphics is a breeze. Another great piece of hanging hardware is the Perfect Hanging Hardware which is available in a variety of design options and is lightweight and convenient to use.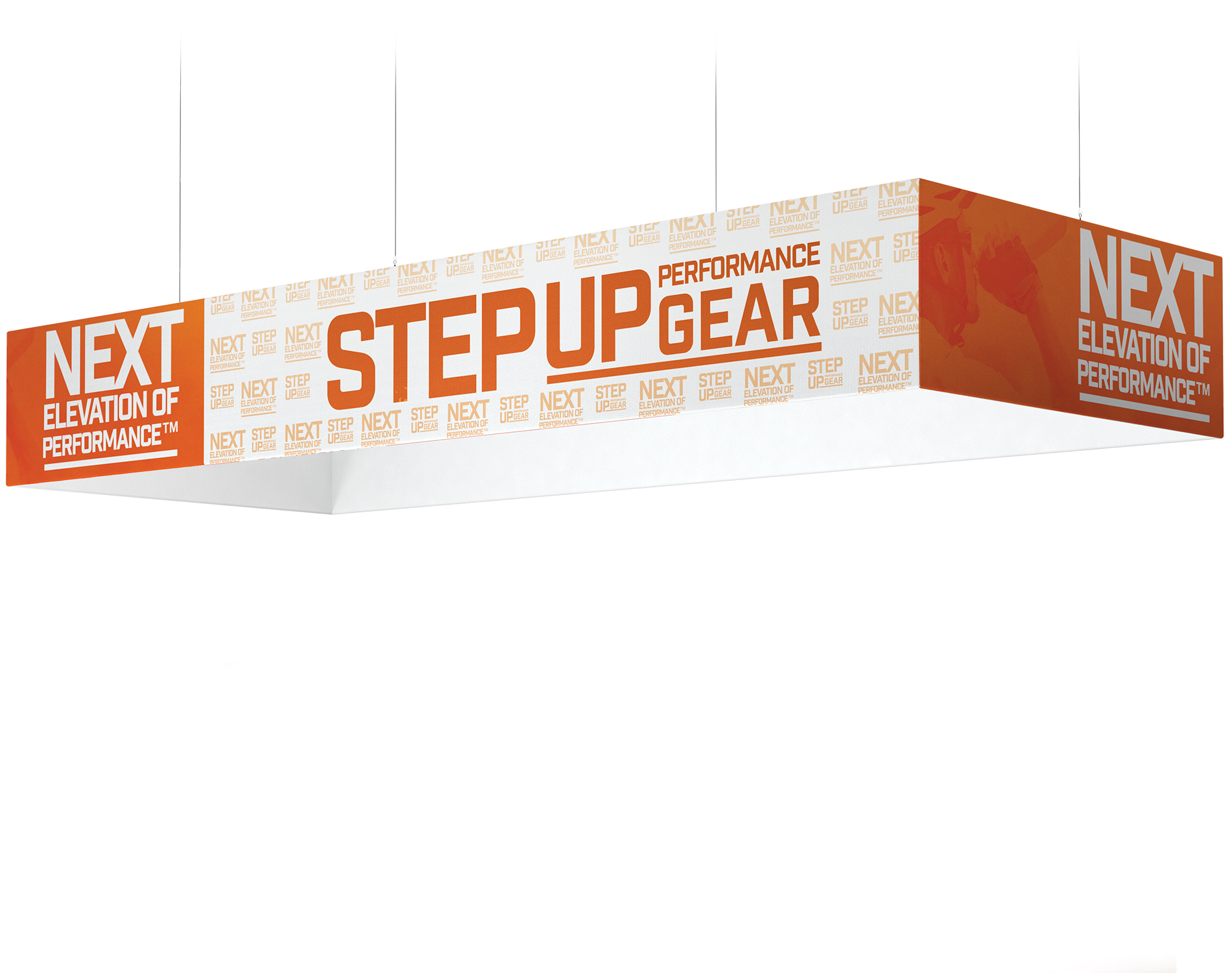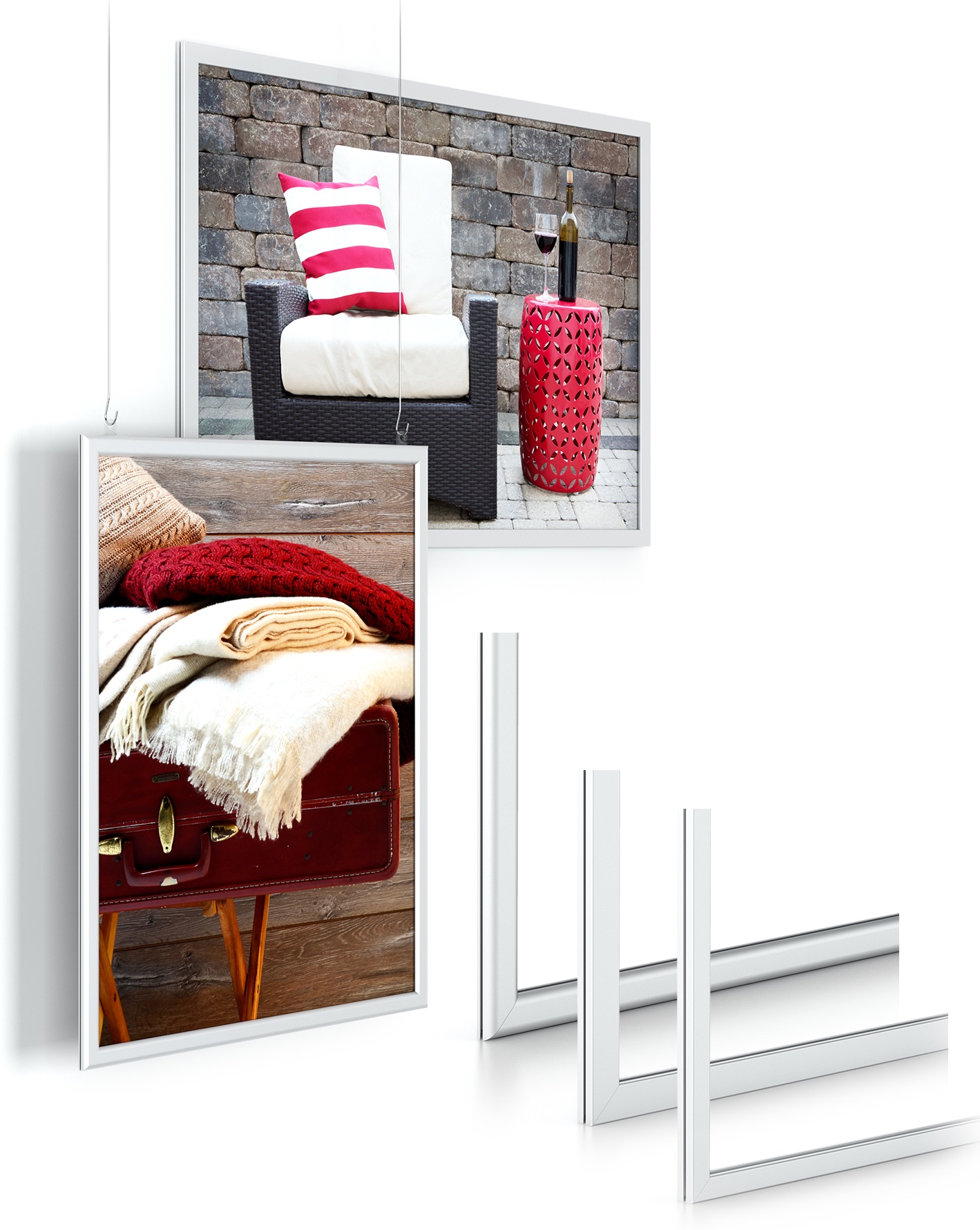 Outdoor Hardware
Outdoor signage is an effective tool for driving traffic. Liquor stores are wise to maximize outdoor signage to attract consumers, share specials, and promotions and boost brand awareness. Testrite manufactures a wide range of sign holders that are ideal for use outdoors.
The first is the Outdoor A frame and Outdoor Sidewalk A Frame. Our Outdoor A-Frames are durable, sturdy and weather resistant. Pair these with outdoor media and it's a perfect fit! These are great to place next to entry ways to display specific promotions.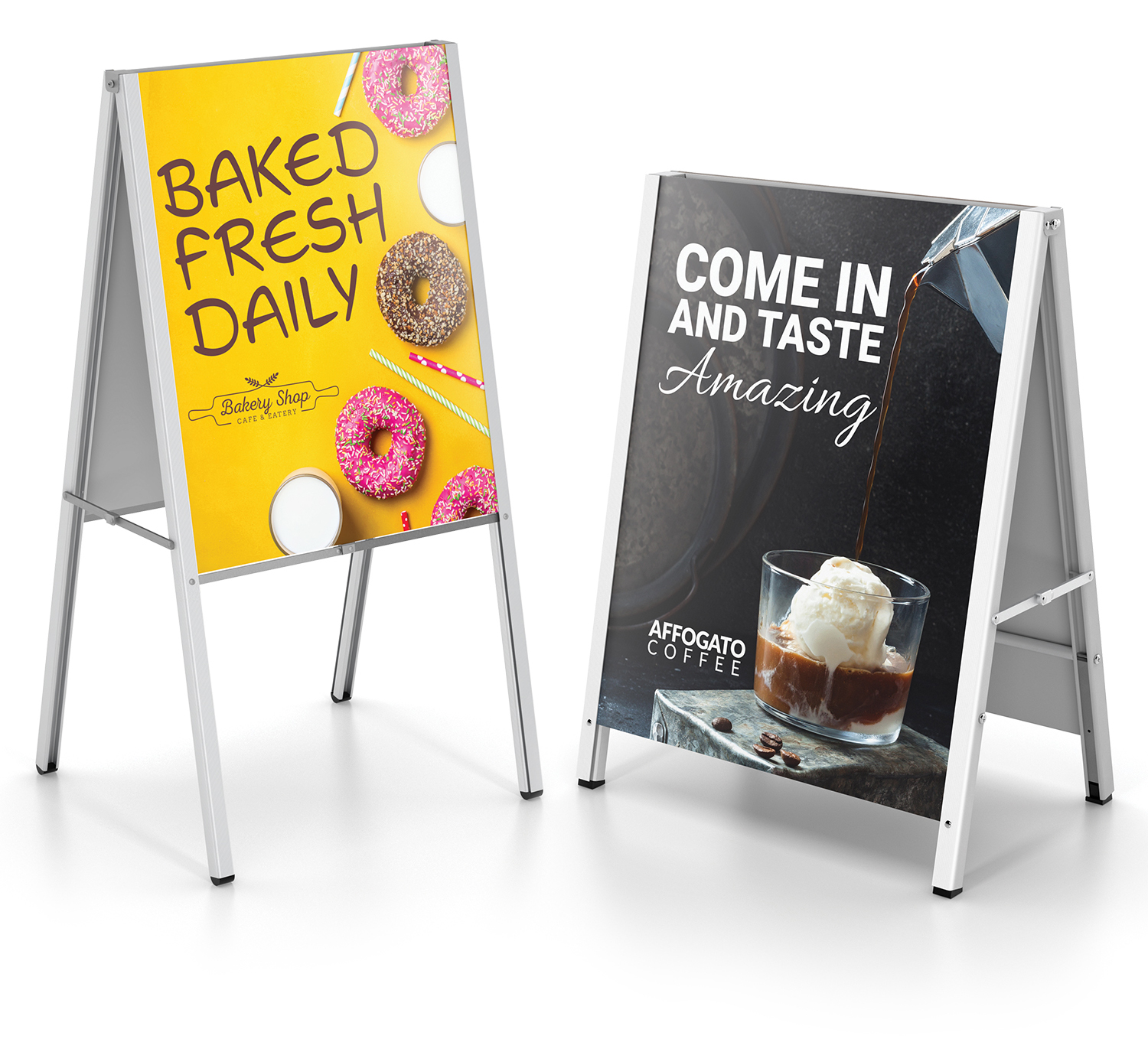 Wine & Spirits Tasting Station
For stores, or manufacturers who are offering an in-store tasting experience Testrite has the perfect solution for you - our portable tasting stations which are available in two styles - portable or premium. Our Portable tasting stand is high-quality, yet lightweight, making it perfect for on-site tastings. Ready to assemble in less than 2 minutes, users can attach rigid graphics to the top and bottom. The Premium tasting stand offers attractive oval uprights, a wet-erase display to write in tasting notes and other information. The premium tasting stand also offers a drop-in frame for easy graphic change outs, making promoting a new brand as simple as dropping in a new graphic. Both can be easily transported in a convenient carry bag that's a mere 24 inches long.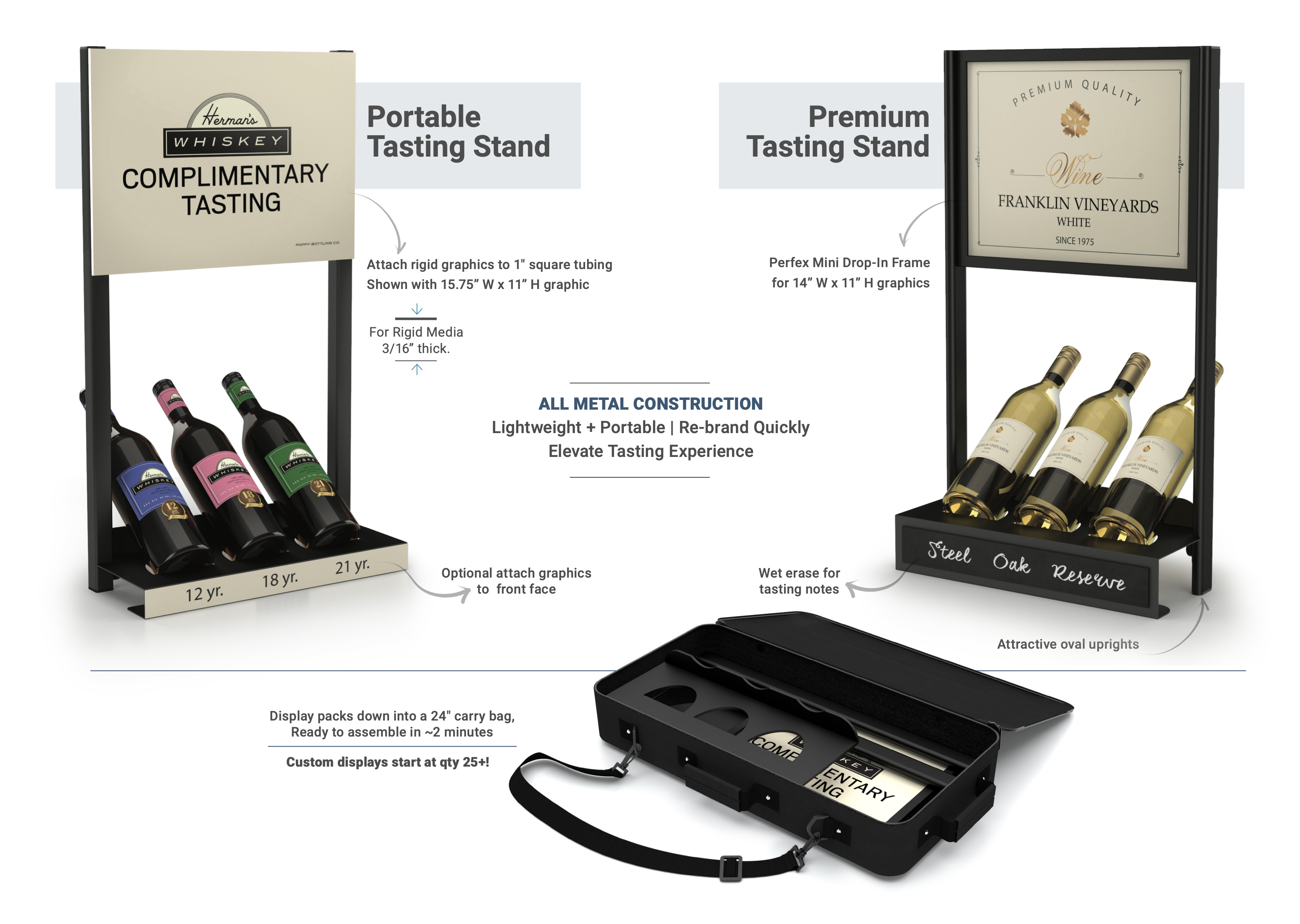 Aisle Markers
Like hanging hardware, Aisle markers are an important design element for a liquor store to help guide consumers on their shopping experience. Testrite's Stellar Aisle Markers are available as curved, straight, or double wing arms. These aisle markers are super easy to install into existing shelving and hardware, and even easier to swap out graphics.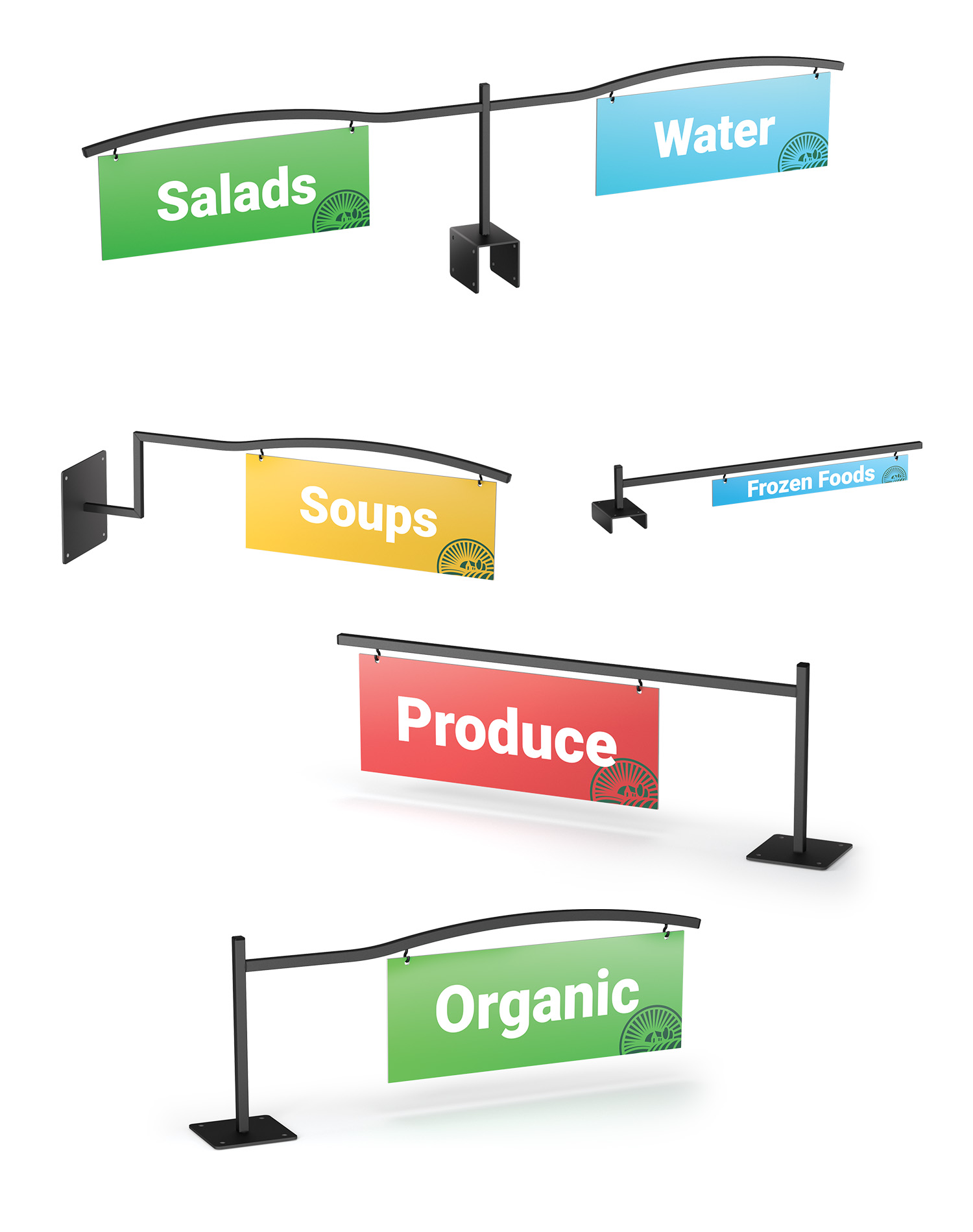 ---
Why Testrite
Testrite manufacturers over 2000 standard products, many of which have proven track records in the wine, liquor and spirits industry. Beyond our standard products, custom is our speciality. Whether you need a different size, color, finish, or design, we invite you to bring us your graphic display challenges so we can offer you an American made solution. We specialize in nationwide rollouts, high volume production, while also offering low minimums. For more information about Liquor store Display solutions and other visual display solutions, visit www.testrite.com.
ABOUT
Testrite Visual Products is a fourth-generation family-owned and operated business and American manufacturer focused on providing hardware and solutions to integrate graphics into the retail environment.